Slim's Fashion and Arts School students were challenged to explore what could make them truly Filipino designers. Turning to all things Philippine for ideas, they tapped into everything from history, culture and literature to run-of-the-mill things like local delicacies and flowers.
While historic garments and tribal costumes were a natural resource, most of the creations are not literal interpretations. The pieces offer a fresh, totally modern take on traditional influences; a far cry from the often cliché renditions that have become synonymous with this theme.
Many students took everyday objects, incorporating them into the contemporary garments. Ivan Ruiz's red carpet gown features satin that's subtly woven like 'palaspas', as seen during Palm Sunday rituals. Strong Catholic influences were undeniably present: in Rum Corvera's fashion sketch inspired by stained glass windows.
In Stephanie Estanislao's design ideas sparked by ecclesiastical garments and in garments that incorporate Christian icons into their sleek designs, almost like 'badges' of our country's faith.
Some went as far as creating 'statement' pieces that verge on conceptual art. Like Justin Nalangan's piece, which takes a tragic literary figure (Maria Clara) and transforms her into a 'kawaii' character, bringing to mind works of Jeffrey Koons and Andy Warhol.  And Roald Sena's bold hand-painted statement about colonial mentality, transposed on a flamboyant gown. Others used non-visual sources of inspiration, like Marc Carcillar who created handwritten pages from 'Noli Me Tangere' on silk organza, his source of inspiration.
Marc recounts "dying Filipino soldiers fought and sacrificed their lives for freedom, the design I  created is modern, with the working woman in mind. She is modern, assertive, fighting for who she is."  The skirt features a custom print blood splatter design; the collar is a take off from the Maria Clara dress. The accent on the white peplum top are "pages" of text from the Dr Rizal's Noli Me Tangere.  The garment' s enclosure resembles an embossed leather bookmark.
The depth of conceptual thinking in some of this year's work is a heartening break for anyone who believes fashion is purely superficial.
Novel ideas aside, the garments boast of superior construction; many feature extremely complex techniques.  This has come to be expected from Slim's students, given the school is widely known for in-depth technical training. Every garment on display was designed, cut and sewn by the student. In their pattern-making course, each student produces roughly 20 full garments over an average of 12 months. Surprisingly, many of the pieces on display were created by students who are only halfway through their course with ASEAN integration just around the corner, the school's directors have encouraged students to get to know their own culture, and to develop a distinctive identity that could potentially set them apart from designers of other nations.
Slim's Fashion & Arts School: The Best of Student Work 2014  is on exhibit  at the 2nd floor of Greenbelt 5 from October 15-21,2014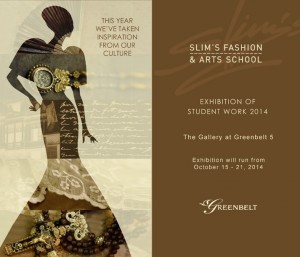 Photos courtesy of Slims Fashion School