NOLI ME TANGERE Exposiciòn Dela Una Mujer II A One-Woman Show
National Tour Fundraising Premier
7pm October 25, Saturday, 2pm 7pm October 26, Sunday sa
3F EXHIBITION HALL, FILIPINAS HERITAGE LIBRARY, AYALA MUSEUM.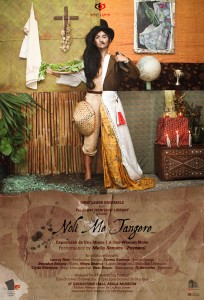 These Ensemble Players challenge the possibilities of performance as they embark on some acrobatics of the heart in PAGE-TO-STAGE: One-Woman Performance Series featuring one-woman performances of Filipino literature classics.
These pieces are usually staged with a big cast but will now be machinated by only one performer onstage – using monodrama, puppetry, digital technology, sound art, and other media.
These one-woman performances will push the limits of performance possibilities by maximizing the artists' skills and stretching their capacity to create and transform while making the work more accessible to more audiences. These One-Woman Performance Series will be available for nationwide school tours and art gallery performances.
Kicking off the series is Exposiciòn Dela Una Mujer an experimental one-woman performance of Jose Rizal's Noli Me Tangere that will push beyond the usual retelling of the novel and push on re-imagining heroes, nation, and imagined histories.
Exposiciòn Dela Una Mujer (A One-Woman Performance) features one actor's performance on Rizal's 1886 novel, Noli Me Tangere. This devise-work features puppetry, digital technology, sound art, and other media machinated by one Sipat Lawin Ensemble Player. The performance kicks off this October with Meila Romero-Payawal.
Romero's collaborators include multi-disciplinary visual artist-designer and Thirteen Artist Awardee Leeroy New, composer and sound desinger for film, theater, and television Teresa Barrozo, filmmaker Brandon Relucio and resident technical director and lights designer Ninya Bedruz. Exposiciòn Dela Una Mujer is directed by Sipat Lawin's Artistic Director Jk Anicoche with dramaturgy by Ensemble Player Ness Roque.
Going beyond the usual narrative retelling of the novel, Exposiciòn Dela Una Mujer pushes a performative reading and re-imagining of the Noli Me Tangere, as well as Jose Rizal himself, and imagined histories as structures and icons continouosly deconstructing and reconstructing nation.
NOLI ME TANGERE Exposiciòn Dela Una Mujer is part of Sipat Lawin's Page-to-Stage mobile performances and is available for local and international touring.

ABOUT THE COMPANY
Sipat Lawin Ensemble is an edge-work, site-specific, independent performance company composed of theater artists, engaged in devising relevant new works. Changing the landscape of theater in the Philippines, the group aims to develop a contemporary community theater experience shared among artists and audiences inside and/or outside the four walls of the theater. The Ensemble's core group of artists also manages the company and its programs alongside producing and developing performances and alternative modes of theater-making.
Stripping theater down to bare essentials of Actor, Action, and Audience, the company started independently producing works in alternative performance spaces in 2009. Since then, Sipat Lawin has produced a series of ensemble-devised anywhere-and-everywhere community collaborations.
As the country's premiere site-specific theater company, Sipat Lawin Players have conducted performance lectures about their innovative works, alternative mode of production and evolving theater-making process, invited as speakers/performance-lecturers in Ateneo de Manila University's Company Call 3 (2011), the Philippine Educational Theater Association's Young Artists Forum (2012), Locus Redux International Art Conference at the Yuchengco Museum (2012), the CCP's 13 Artists Awards Forum Series on "Collaborations and Crossing Media" (2012), as well as in two of This Is Not Art Festival's "Critical Animals" panels in Newcastle, Australia (2013). In 2014, the Ensemble also launched Weekends with Sipat, blank-ticketed workshops where experts in different fields shared what they know through talks or workshops.
An active player in the social media platform, Sipat Lawin has been featured in local and international blogs, papers and programs by various networks and news agencies including GMA, Yahoo Philippines, Al-Jazeera and Reuters, among others.
The Ensemble aims to create and develop new forms of inter-action, social functions and modes of communication. Crossing and blurring boundaries among different performance media, SLE collaborates with top artists from different fields.
To the edge of consciousness, edge of theater-making.
Sipat Lawin Ensemble: Contemporary Community Theater, Contemporary Theater Community.