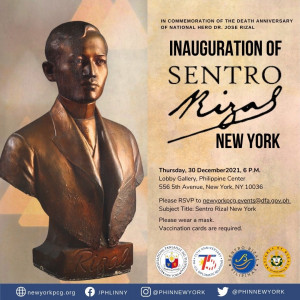 125 years after the execution of Jose Rizal, I am coincidentally revisiting Conrado de Quiros' speech titled Youthful Exuberance which tackled how youth-led movements have a certain kind of fervor not present in any other generations. I may never know whether both those figures would agree on the aftermath of youth in the society but one thing for certain is how both regarded the young ones as the pillars of tomorrow.
Amidst the prevalence of social media and using it as a means to (mis/dis)inform the public, it is becoming imperative to re-examine Rizal's works and see how it reflects today. Would he be tagged as a modern-day "reklamador" if he lived through our times? Would he be mad knowing the same weapon he used to show the ills that plague our society is now being utilized to craft false narratives?
Unfortunately, one of the many victims of this tug-of-war for truth is the youth sector who will be the next leaders of our country.
The fight for truth will always be an uphill battle but our social and political climate now makes it more challenging with many difficult terrains to be surpassed. The Us vs Them division is more apparent, and worse, even encouraged, with the social media algorithms designed to isolate us in our echo chambers.
While at the end of the day, we all strive for a better Philippines that Rizal dreamt for us, the danger lies in attributing a false sense of security to fanaticism masquerading as patriotism. It creates nationhood that is exclusive instead of inclusive; it fosters pride that is divisive instead of uniting.
To move forward, we must ask ourselves how Rizal's works and teachings can affect our way of living beyond academic practice. In doing so, we can begin exploring the real essence of Filipino identity so we can instill a strong sense of nationhood and pride.
In this light, the Philippine Consulate General Elmer G. Cato in New York, in partnership with the National Commission for Culture and Arts Chairperson Nicanor Lizaso spearheads the inauguration of Sentro Rizal in New York Center on December 30 joined by Lisa Tinio Bayot, the great grandniece of Jose Rizal.
This initiative aims to organize cultural programs and activities for Filipinos, especially for children overseas, to promote appreciation and understanding of Philippine culture and the arts.
At the age of 26, Rizal compared the condition of our country to a patient suffering from cancer so terrible that he did not dare to be touched. But instead of losing hope, he put forth his ideas and ideals using pen and paper and sacrificing his life for the country. As we look upon this day, may the youth of today not just recall the virtues he instilled but contemplate and take action as we are always in a constant battle towards our commitment to progress.