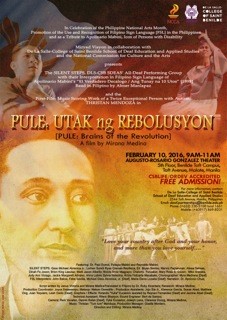 The Americans tagged Apolinario Mabini as the "Insurgent's Brains," [The Wichita Eagle, Kansas, December 14, 1899], and believed that "nearly all proclamations and state papers bearing Aguinaldo's name were really the work of Mabini" [The Washington Times, May 17, 1903]. In the same vein, Dr. Paul Dumol, a Filipino historian echoed his thoughts: "…Hindi natin maikokompara yung pagsangguni ni Aguinaldo kay [Felipe] Buencamino dun sa kanyang pagdedepende kay Mabini. Kaya halos lahat ng mga polisiya ni Aguinaldo nanggaling kay Mabini. Siyempre noong meron ng Malolos Congress dumadaan din ito sa Congress pero mula sa Congress magbibigay ng opinyon si Mabini, at madalas yung opinyon ni Mabini ang sinusunod ni Aguinaldo….["…we cannot compare Aguinaldo conferring with Buencamino with his dependence on Mabini, so almost all of Aguinaldo's policies came from Mabini. Of course, when the Malolos Congress came about, these would pass through Congress but from Congress Mabini would give his opinion, and usually it was Mabini's opinion that Aguinaldo would follow."]
These are excerpts from PULE: UTAK NG REBOLUSYON, an educational documentary on the life of Apolinario Mabini [1864-1903], Chief Adviser of Gen. Emilio Aguinaldo, First President of the Philippine Republic, and the First Secretary of Foreign Affairs.
Primarily intended for Deaf Filipinos, Filipino Sign Language [FSL] interpretation and/or insets were used to provide them access to information on Mabini. However, the target viewers are not limited to them. It has narration in Filipino, and is fully subtitled in English. A global audience was in mind.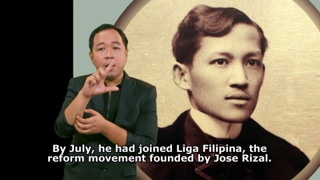 PULE is one of the very few video documentaries made on Mabini. What makes it significant, distinct and "special" is the inclusion of Persons with Disability [PWD] in the making of the film. In fact, there were more PWDs who participated in it than the so-called "abled" individuals.
Envisioning a segment with Deaf interpretation of Mabini's El Verdadero Decalogo [The True Decalogue / Ang Tunay na 10 Utos] in Filipino Sign Language, I have asked Myra Medrana, Deaf choreographer of the SILENT STEPS for their participation. With the help of several hearing interpreters and teaching staff of the DLS-CSB School of Deaf Education and Applied Studies, the Decalogo was for the first time presented in visual-gestural form. Written more than 100 years ago in 1898 by Mabini, the Decalogo has taken a new form. Simultaneous with the interpretation, I have asked a wheel-chaired Person with Disability to read the Decalogo in Filipino. He has become the Mabini character. With subtitles in English, I came up with a multi-track presentation. As a reaction to it, one of the Department of Foreign Affairs directors who viewed it, Ms. Lenna Sison remarked: "…your presentation [treatment] of Decalogo is beautiful…I felt more its significance. It was touching! I fully appreciated how Mabini's mind and heart worked."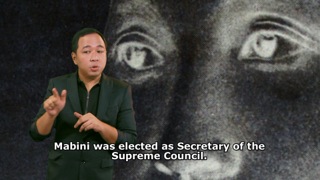 In addition, twice-exceptional Person with Autism [PWA], Thristan Mendoza music scored the film, making PULE and The Sublime Paralytic, [a variation narrated in English], the very first Filipino films music scored by a PWA. The risk was there when I got him to do the job knowing that he had no experience in music scoring. However, it was confidence in his ability, and the rock-strong belief in God that I am being led to the right persons that comforted and assured me with regards my decision to try him despite his mother's fear and anxiety over the outcome of Thristan's music scoring work. I was actually quite excited while waiting for his music composition as nobody knew what he would come up with. Finally, when I heard his music, I was so delighted. I thought that they were awesome for a first-timer. It might have taken me longer time to work with him because of processes I had to do which are not necessary when working with the usual scorers. But it was all worth it.
In the observance of the 2016 National Arts Month, it is just apt to celebrate the talents of people classified as "Disabled" like any other. Let's celebrate their ABILITY not DIS-ability. By showcasing their talents, we make them shine and prove to the society that they can be as good as anyone.
Above anything else, it is my hope that through this film, viewers could actually learn more who Apolinario Mabini was, and what he did for our country. The way the youth perceived Mabini when they viewed "Heneral Luna" last year in 2015 when it was shown was quite appalling. Questions and reactions such as: "Why was Mabini seated throughout the movie?", "Maybe tired?", "Perhaps lazy!" I cannot imagine how our future leaders would be without knowledge, sense, concern and love of history.
It is no wonder perhaps why our current political leaders act the way they do, or why graft and corruption persist. Could that be an outcome of their failure to look back? Ignorant of the past, they seem unaware of our great heroes' lives who placed God and Country first Above Self! Too bad and sad that for most of our leaders now, Self comes above all else.
Notes by Mirana Medina
Independent Advocacy Filmmaker
February 8, 2016