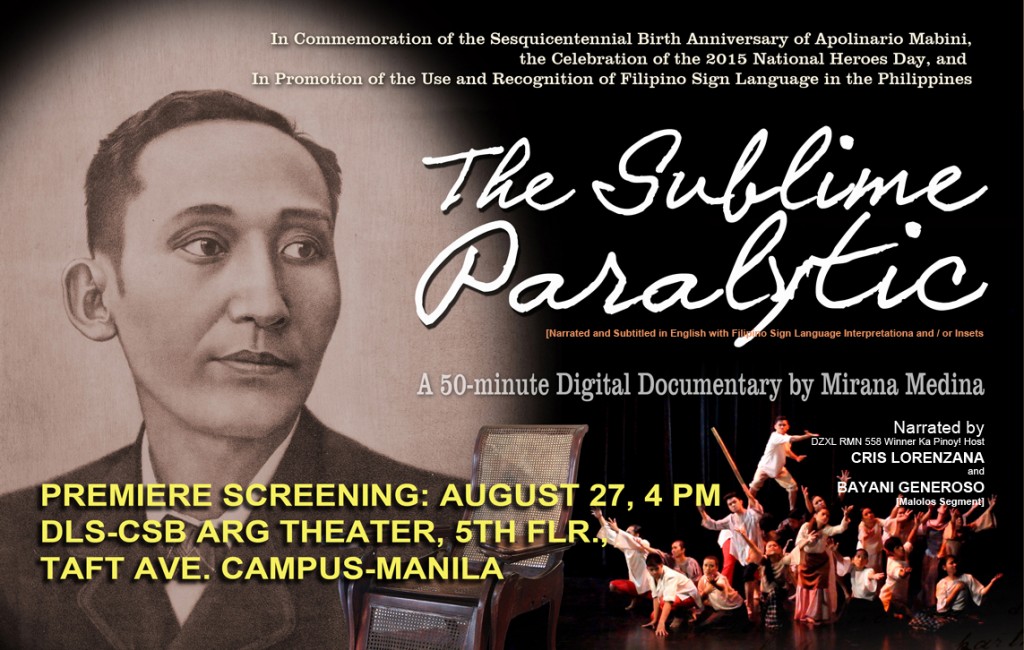 In celebration of National Heroes Day 2015 and closing of Apolinario Mabini's 150th Birth Anniversary, and in promotion of use and recognition of FSL in the Philippines, Miryad Vision in collaboration with De La Salle-College of Saint Benilde School of Deaf Education and Applied Studies, and National Commission for Culture and the Arts present APOLINARIO MABINI, THE SUBLIME PARALYTIC.  A 50-minute digital documentary by Mirana Medina with subtitles in English and Filipino Sign Language Interpretations / Inserts.  Featuring the first ever deaf interpretation of Mabini's "El Verdadero Decalogo" and the first music score for a film by a Filipino with Autism.
Synopsis: Son of a peasant couple, Apolinario Mabini (1864-1903) worked and supported himself through college until he obtained his Bachelor of Laws Degree from the University of Sto. Tomas.  At first a reformist, he later turned into a revolutionary upon seeing the continuous oppression by the Spaniards and the suffering of the people.  Arrested several times because of his involvement in revolutionary activities, his fight for independence continued until the Americans took over the rein of the country from the Spaniards.  Already paralyzed by an unknown disease at the time, he became the Chief Adviser and First Secretary of Foreign Affairs of the First President of the Philippine Republic, Gen. Emilio Aguinaldo.  His strong influence on the policies and decisions of Aguinaldo earned him the title of "Black Chamber of the President."  To this admirers however, he was "The Brains of the Revolution." The laws and government policies he wrote for Aguinaldo helped in shaping the destiny of our nation.  As a political writer and thinker, one of his famous writings was "El Verdadero Decalogo" (1898), the preamble of his Programa Constitucionalda la Republica Filipina. Described by the Americans as the "most irreconcilable among the Filipinos,"  Mabini did not want to recognize American sovereignty over the Philippines.  He was adamant and stubborn against it.  Because of that, he was exiled to Guam.  He could not return to the Philippines unless he swears an oath of allegiance to the United States.  He died at the age of 38 less than three months after his return to the country.
Premiere Screening is on  August 27, 2015, 4 P.M. at DLS-CSB ARG Theater, 5th Floor Benilde Taft Campus, Manila.