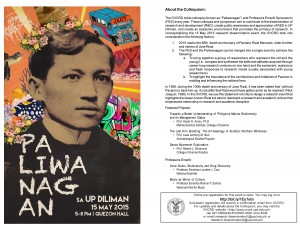 The University of the Philippines Office of the Vice Chancellor for Research and Development will hold colloquia known as "Paliwanagan" and a Professors Emeriti Symposium, which features a collaboration of a group of researchers representing the old and the young. The public presentation of UP's top researchers aims to contribute to the dissemination of research and development (R&D), create public awareness and create an academic environment that promotes the primacy of research.
As 2015 marks the 85th death anniversary of Paciano Rizal Mercado who served as the mentor of Jose Rizal, the research event was also designed to highlight the lesser-known Rizal and to represent a research and academic culture that emphasized mentorship in research and academic discipline.
A variety of researches will be presented on 15 May 2015, from 5:00 pm to 8:00 pm at Quezon Hall, UP Diliman. Online pre-registration for the event is open. You may log on to http://bit.ly/1Ey1etn.