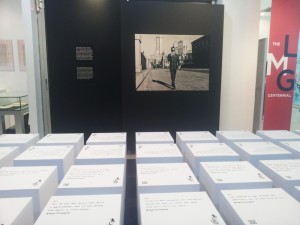 Known to a generation of students as the translator of Noli Me Tangere and El Filibusterismo, and a biographer of Jose Rizal, Leon Ma. Guerrero is a writer and diplomat whose work was translated to reach today's generation through the LMG Centennial "History in 100 Tweets". According to his son David Guerrero, "the exhibit imagines how he may have tried to reach today's generation. And distills some of his writing into the 140-characther platform we have become so familiar with." I myself have been following Twitter for updates, and it is amusing to see the perspective of a statesman whose influence in the academe, as well as political affairs, is notable. It is disclaimed that much of the context will be lost in the 140-character platform, but still, you can understand what he was trying to say.
The Ayala Museum and the Filipinas Heritage Library opened the interactive exhibit on the life of Leon Ma. Guerrero to share his works for today's millennial generation. There is an audiovisual presentation of a typewriter with some of the tweets, and 100 white boxes with short quotations, not more than 140 characters, from the diplomat's writings. The entrance of the exhibit features an interactive chance to hear some clips of the Noli Me Tangere audiobook, read in English. It is refreshing to hear again the voices of Crisostomo Ibarra, Sisa and Padre Damaso.
Leon Ma. Guerrero, known to his close friends and family as Leoni, is known as the writer of "The First Filipino," a biography of our national hero Jose Rizal, which won him the grand prize at the Rizal Centennial Biography contest in 1961. According to historian Ambeth Ocampo, "Guerrero took the heart of stone from Rizal, exchanged it with a beating heart of flesh, and gave color to a life story that has since become my area of expertise."
Some of the tweets mention how Rizal is a patriotic hero who was not able to experience the revolution he started, and on his soft side, how he truly loved Josephine Bracken. There are some tweets which also focus on Leoni's life as an ambassador and an internationalist. It can be truly understood how he was an intellect and a fighter using the pen as a weapon, which is similar to how Jose Rizal used his writings to show his love for the Philippines. Leoni considered his typewriter as a "lucky typewriter" which he used to type the draft of "The First Filipino." At the beginning of World War II, he buried it in the garden of his house, and found it when he dug it up after the war.
Leon Ma. Guerrero lives through his writings. His works surely inspire today's generation to fight for the upliftment of our country through all possible means.