JS Productions Incorporated in partnership with Resorts Word Manila will be introducing the famous story Noli Me Tangere by Jose Rizal in a once-in-a-lifetime production that will let us reminisce our history, art and literature.
Noli Me Tangere: The Opera had a successful leg of shows in New York and in Washington D.C that the two Philippine National Artists responsible for the libretto of the opera, Felipe de Leon and Guillermo Tolentino, JS Productions' President Jerry Sibal and Loida Nicolas-Lewis thought that it was time to re-introduce Noli Me Tangere to the younger generation in Manila.
As quoted on an interview with The Philippine Star, Jerry Sibal, a premier New York event and floral designer had said, "It is the perfect time to bring back the Noli opera to Manila because there have been a lot of Broadway productions staged here (Manila) recently. The younger generation is so immersed in the Internet that they've forgotten history and culture. I think it's high time that we educate them, as it is our history that identifies us as Filipinos."
Sal Malaki who will play Crisostomo Ibarra and Rachelle Gerodias as Maria Clara, two world-class talents will lead the Manila production of Noli Me Tangere. Gerodias one of the most sought after sopranos completed her Master's degree in Vocal Performance and Vocal Literature from the famed Eastman School of Music in New York and graduated cum laude from the University of Santo Tomas Conservatory of Music. She has also been awarded "The Outstanding Women in the Nation's Service."
Malaki on the other hand is one of the most in demand artists of the Los Angeles Opera Company, under the general direction of world-renowed tenor and conductor Placido Domingo. He has appeared in more than 105 Los Angeles Opera productions since he joined the company in 1995. In the same article from, The Philippine Star, Malaki is quoted saying, "This is our very own and we can claim this tunay na Filipino. We learned about Noli when we were young…but we continue to learn"
As for Gerodias, she says that she looks forward to interpreting Maria Clara's character. She is quoted, "Noli Me Tangere is probably the most beautiful operatic work that is truly Filipino, I feel proud to be part of this production. Aside from the beautiful music everyone will enjoy, it is a story about love, honor and hope, things we all need to draw inspiration from." Playing alternate for Ibarra are Manila-based undiscovered greats, Ivan Nery for Ibarra and Myramae Meneses for Maria Clara both from St. Scholastica's College in Manila with bachelor's degrees in music under the illustrious soprano Camille Lopez-Molina.
Aside from the people who were involved in the play itself, one more person who should be credited for her bringing supporting the opera, and for her passion in education in the Philippines is Loida Nicolas-Lewis. She was originally from Sorsogon City, Philippines but later moved to the United States of America to pursue her law career and manage businesses.
She later opened The Lewis College in her hometown in Sorsogon City because she believes that it is better to share her blessings in helping educate the Filipino citizens, as this is where the future will depend on. With that vision that she have, this was also is the same for our national hero, Jose Rizal. He also believed and had that in mind when he wrote his novel "Noli Me Tangere" and is also why Loida Nicolas-Lewis felt that it is "her civic duty to keep promoting" the Noli Me Tangere novel. She is quoted saying, "I believe God has a plan for everyone and if we are faithful and open ourselves to that plan, our lives will be blessed.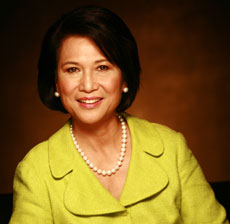 Noli Me Tangere: The Opera will run from September 11 to 29 at the Newport Performing Arts Theatre in Resorts World Manila. The Manila Philharmonic Orchestra led by Maestro Rodel Colmenar will lend their musical prowess to the production that will be directed by theatre director Freddie Santos. Honorary guests for the opera include Boy Abunda, Gemma Cruz Araneta, Willy and Marion Cosculluela, Secretary Albert del Rosario, Margie Mora-Floirendo and Loida Nicola Lewis.
Schedules are as follows: Gala Night: Thursday at 8pm on September 11, 2014 Regular Run is September 14 at 3pm, 17 at 8pm, 21 at 3pm, 24 at 8pm, 28 at 3pm, 2014 at the Newport Performing Arts Theatre, Resorts World Manila, 3rd Floor, Newport Mall, Newport Blvd, Newport City Cybertourism Zone, Pasay City.
For more details, Visit their Facebook page at: www.facebook.com/nolioperamanila or call their number at 899-7938 to 39.
For ticket inquiries contact Dennis Villaluz at (02) 788-9108, 0916-8571-553 or 0932-175-8599 Students will valid id may avail discounted tickets for the balcony seats at P500 through the generosity of San Miguel and chairman and CEO Ramon Ang.
All Information from: The Start articile 'Nole Me Tangere: A beautiful opera that is truly Filipino and "Why Loida Lewis continues to believe-an invest- in education from the Inquirer.