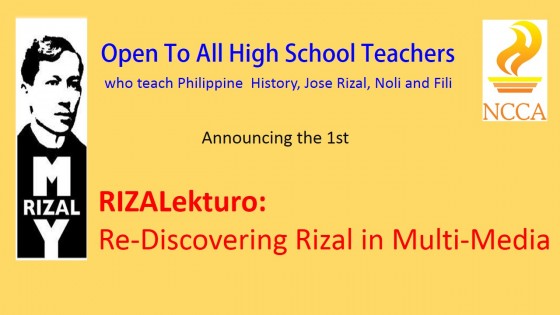 This is a 3-day teacher training workshop organized by our group, MyRizal (www.myrizal150.com), and sponsored by the National Commission on Culture and the Arts (NCCA), National Historical Commission of the Philippines (NHCP) and De La Salle College of St. Benilde. It will be held from Aug. 24-26, 2013 at the following venues:
Aug. 24-25, 2013:
12/F Amphitheater
School of Design & Arts Campus
De La Salle College of St. Benilde
950 P. Ocampo Street, Malate, Manila
Aug. 26, 2013:
National Historical Commission of the Philippines (NHCP) Building
T.M. Kalaw Street, Ermita, Manila
The goal of Rizalekturo is to enliven the teaching of Rizal by using multi-media, culture and the arts as teaching tools, and by broadening the substantive context in which Rizal is discussed.
Below is the tentative schedule of Rizalekturo and a profile of our speakers/lecturers.
This workshop, being the first of its kind, will be given FREE of charge. Lunch on the first 2 days and a picnic merienda in Rizal Park on the last day will also be provided free of charge. Due to the limited number of slots, we encourage you to register early. We will confirm your slot on a FIRST COME FIRST SERVED basis, with priority given to teachers of Rizal, the Noli and the Fili.
Please reconfirm your reservation and obtain your Seat Number by calling 817-8062 during office hours of Aug. 19-22. If you do not reconfirm your reservation on those dates, we reserve the right to re-assign your slot to other applicants.
We are confident that participation by your teachers in RIZALEKTURO will result in a richer, more engaging learning experience for your students.