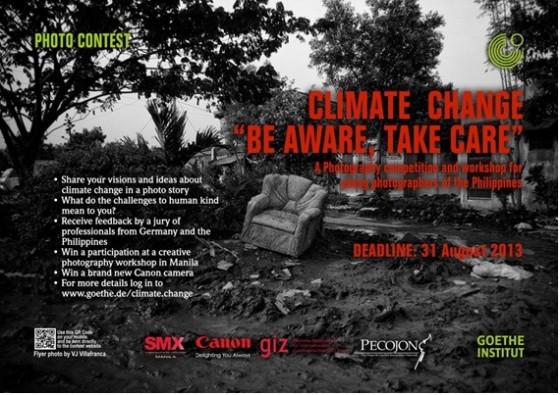 The Goethe-Institut, together with the GIZ und PECOJON, Canon and SMX are organizing a photography contest: "Climate Change. Be Aware, Take Care" in the Philippines.
The Philippines is one of the most vulnerable island states constantly threatened by natural disasters and climate change. Taking responsibility, take new paths, find a remedy, curb the climate change, in order to provide the next generation a better life – this is a challenge that the Philippines has to face as well.
The Goethe-Institut wishes to raise awareness among young Filipinos by calling for their participation and help fight this social challenge.
Participants:

All Filipinos from age 18 to 35 and residents in the Philippines are invited to participate.

Requirements:

Participants will be required to address the issue on climate change and focus on possible solutions and visions with regard to a better future through a photo story (max. 10 photos).

15 photographers will be selected by Andy Spyra (Germany), Veejay Villafranca and Charlie Saceda (Philippines) by 30 September 2013.

The 15 winners will be invited to a free creative photography workshop held 23-26 November 2013 in Manila, led by and Andy Spyra (Germany) and Veejay Villafranca (Philippines).