MyRizal wholeheartedly embraces the call to action "Magpaka Robredo Ka." It is very much aligned with the concept of celebrating the Rizal in each of us. Jesse Robredo's exemplary behavior and achievements as a government official should be the new benchmark by which we evaluate the performance of our other government officials. At the same time, Jesse Robredo's values and principles–i.e. honesty, integrity, hard work, dedication, humility–should be models for all Filipinos, regardless of profession.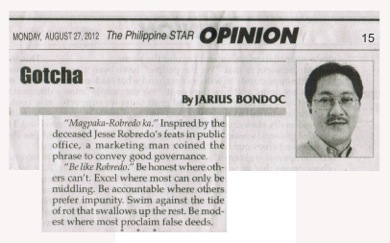 TO ALL FILIPINOS:
If Jesse Robredo is forgotten all he stood for is lost. We must not allow this to happen.
Lets all adopt a catch cry which will serve as a national call to continue on with the spirit of all that Robredo represented.
"MAG PAKA ROBREDO KA"
Imbedded in the Filipino minds, this will mean many things to many people but will signify GOOD GOVERNANCE, HONESTY, INTEGRITY AND HUMILITY.
I hope you will likewise contribute your opinion on this concept.
In addition, I also conceptualized the notion of a "ROBREDO STANDARD."
"The Robredo Standard for all politicians and government officials to be measured against."
Perhaps there exist a performance, behavior standard for government officials, but definitely no one has ever been measured against such a standard.
The Robredo Standard may just be the yardstick.
Republic Act 6713 should be renamed as the ROBREDO Code of Conduct and Ethical Standard for POLITICIANS, Public Officials and Government Employees.
Please visit FACEBOOK: "MAGPAKA ROBREDO KA" and experience the citizen's reaction.
Albert M G Garcia