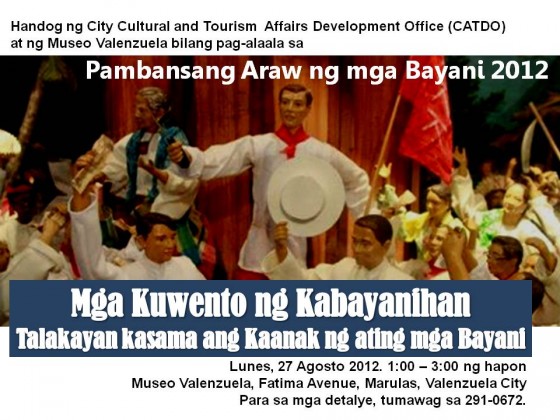 In line with the celebration of National Heroes Day and History Month, the City Government of Valenzuela and Museo Valenzuela Foundation will hold a forum entitled "MGA KUWENTO NG KABAYANIHAN: Talakayan kasama ang Kaanak ng ating mga Bayani" on Monday, August 27 at 1:00-3:00 p.m. at Museo Valenzuela, Marulas, Valenzuela City.
Interesting anecdotes and inspiring stories about our heroes and reflections about nationhood will be shared and discussed in this forum with Ms. Gemma Cruz -Araneta, Ms. Amy Yulo, Arch. Arturo Valenzuela and other descendants of Filipino heroes.
As we celebrate this year's National Heroes Day and commemorate the martyrdom and sacrifices of our heroes, we encourage everyone to look back and see those individuals, including those numerous unnamed heroes, who died in the past for us to live today. Philippine History is full of inspiring stories of men and women whose passion for excellence, uncompromising nationalism and true concern for fellow Filipinos enabled them to contribute to the struggle for freedom and birth of our nation. These stories are part of our collective history as a nation and of our shared story as a people. And the telling of these stories must continue…
For details and confirmation of attendance, contact Jonathan Balsamo, curator of Museo Valenzuela at 291-0672, 09062020274 or thru email at jcbalsamo@valenzuela.gov.ph.