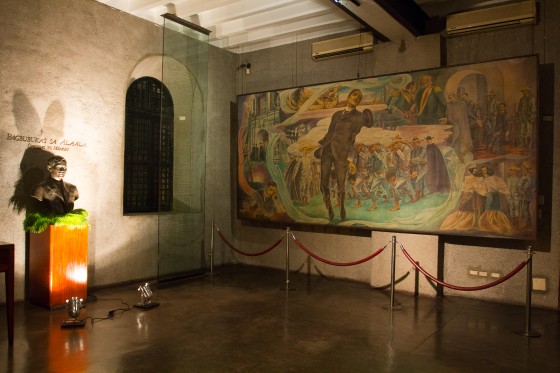 Jose Rizal, our national hero, is alive and well on his 151st birthday, or at least, his spirit is. That is the message being conveyed by MyRizal, the movement started last year by Saturnina Rizal descendant Lisa Tinio Bayot, and Maximo Viola relative, Maite P. Gallego. Rizal's birthday party is being held on June 19 at the Rizal shrine in Fort Santiago, Intramuros, thanks to MyRizal, the National Historical Commission of the Philippines (NHCP) and Intramuros Administration.
Invited to the party are artists, writers, curators and museum directors, intellectuals, members of the academe and those who contributed to making Rizal's sesquicentennial meaningful and significant. MyRizal highlights its focus on education by announcing PreMYo Rizal 2012, the nationwide essay writing contest in partnership with the Dept. of Education based on Rock Ed's "Kaninong Anino" MTV directed and animated by the enormously talented Arnold Arre, with music by Francis de Veyra of the Radioactive Sago Project.
For Rizal's birthday party, the Rizal shrine is made even more beautiful with the fashion of Jojie Lloren, a Rizal-based art installation by Leo Abaya, and Rizal-based photographs by Paco Guerrero, courtesy of Manila Contemporary Gallery.
Gang Badoy Capati, founder of Rock Ed and lyricist of "Kaninong Anino" speaks about the creation and meaning of the song, distinguished writer and Rizal expert Isagani Cruz toasts Jose Rizal and PreMYo Rizal 2012, top performing artist Stephanie Reese sings "Bayan Ko", and last year's PreMYo Rizal winning essays for Grade School and High School are interpreted through a dance movement by Stephen Viňas and Al Garcia, and a reading by performance poet and author of Rizalpabeto, Vim Nadera.  Bryan Viray directs the program.
Rizal's birthday party and PreMYo Rizal 2012 are MyRizal's way of reaching out to the Filipino youth and encouraging everyone to "celebrate the Rizal in each of us."
For more on MyRizal and PreMYo Rizal, log on to www.myrizal150.com.