By Angelo G. Garcia
Manila Bulletin Publishing
June 25, 2012, 12:03pm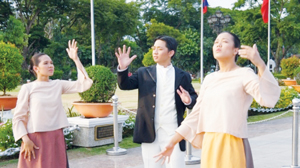 On June 19, 2011, during the 150th birthday of Philippine national hero Dr. Jose Rizal, a special film on "Mi Ultimo Adios" as interpreted in Filipino Sign Language (FSL) was shown to the public at the De La Salle-College of Saint Benilde (DLS-CSB). For the first time, one of Rizal's works was interpreted in FSL through film.
Last June 19, four more of Rizal's poems have been interpreted in FSL. The National Commission for Culture and the Arts (NCCA) in partnership with DLS-CSB School of Deaf Education and Applied Studies (SDEAS) launched "A Mi Patria (Inang-Bayan/ To my Motherland)" a sign-interpreted film made by advocacy and independent filmmaker Miranamedina.
"Last year's Mi Ultimo Adios in sign language sparked interest of the descendents of Rizal and eventually the National Historical Commission. It was later shown in the Rizal shrine last December 30 and again for young deaf students. It also was included in the Hong Kong International Deaf Film Festival last February," shares DLS-CSB vice chancellor Bob Tang.
"A Mi Patria'' features five of Rizal's poems– "A Filipinas" (To the Philippines), "A La Juventud Filipina" (To the Philippine Youth), "Canto de Maria Clara" (Songs of Maria Clara), "A Las Flores De Heidelberg" (The Flowers of Heidelberg), and "Mi Ultimo Adios" (My Last Farewell).

MAKING RIZAL RELEVANT TO THE DEAF
The lack of material for deaf students has been motivating filmmaker Mirana Medina.
"Wala kasing materials for our deaf students. I got the idea also from the deaf group who I worked with this project. And since its Rizal's 150th birthday, I thought of doing this as a tribute also to him," she says.
"A Mi Patria'' features deaf performers who interpret Rizal's poems in a visual and gestural way. The performers include Aldrin Gabriel, Mark Steven Gaspar, Jorelle Faytaren, and Romalito Mallari. It also features SDEAS' Dulaang Tahimik and Silent Steps performing groups. The film has three versions with readings in Filipino, English and Spanish.
"I want to cover different phases of Rizal, mula childhood hanggang mamatay siya that is why I chose the five poems. Rizal's works inspired me to do this. I consulted with CSB for the FSL interpretation so that the hearing impaired can easily understand the poems," Miranamedina explains.
Even the Rizal's descendants see the project as the perfect vehicle for the hero's work to reach more people including the hearing-impaired.
"This is wonderful, this is the first time there's something geared specifically for them, instead of just reading the published works. I was moved that the deaf are inspired by this project. For me it's education. Tuloy-tuloy ang education natin, the quest to learn to inquire, to do the best we can in any situation. I think this is a great vehicle, for the youth to learn more about Rizal," says Lisa Tinio Bayot, the great granddaughter of Saturnina Rizal Hidalgo, Jose's eldest sister.
"It's a very worthy project. The goal of My Rizal 150 is to encourage all sectors of society to do their own projects to celebrate Rizal and to increase the appreciation and knowledge about his works. Definitely we are very supportive of this effort," adds Maite Gallego, relative of Felix Resurreccion Hidalgo and Maximo Viola.
Bayot and Gallego are also organizers of My Rizal 150, a movement that targets the Filipino youth and promote what the national hero stood for and his ideals. It hopes that the Filipino youth will emulate Rizal's patriotism and love for the country.
FILMMAKER OF THE SPECIAL
The film adds another feather to Miranamedina's cap, it being her fifth film for the special education and persons with disabilities sectors.
Known for her 2006 film "Alyana" which chronicles the life of a child with autism, the filmmaker says that this is her contribution in educating the public about the different conditions and not only about hearing impairment and autism.
"'Yung film ko na Alyana, anak kasi ng pamangkin ko 'yun, so nag start dun. Nakita ko 'yung pangangailangan ng material kasi knowledge is power. Simple lang ang film ko, kung baga 'pag labas nila masasagot nila kung ano ba ang autism or deafness, para maintindihan ng audience ang condition," she explains.
Apart from being relevant, Medina says that making the special film gives her the opportunity to learn more about the sector. With her film, "Silent Odyssey" a documentary film about the Filipino deaf culture, she says she learned the importance of FSL for the Filipino deaf.
"I want the hearing people to see the beauty of FSL. Right now every film I do has subtitles. I love working with them  and I find fulfilment," she shares.
Miranamedina hopes to continue her film about Cerebral Palsy and hopes to make films about Attention Deficit Hyperactivity Disorder (ADHD), Down Syndrome, and Dyslexia. Her only stumbling block is the funding.
AMERICAN SIGN LANGUAGE VS FSL IN SCHOOLS
More than giving a chance to the hearing impaired to understand the works of Rizal, advocates like SDEAS hope that this film will give way to FSL in deaf education.
"This film is truly significant for the Filipino deaf community as it primarily aims to show the beauty of the deaf's natural language, none other than Filipino Sign Language. We hope this film can help enlighten some people in our government especially at the Department of Education that FSL does exist and should be used and recognized as a medium of instruction in teaching deaf Filipinos," says SDEAS Center for Academics chairperson Leo Sulse.
Currently, American Sign Language is the widely used form of sign language in deaf education in Philippine schools.
"I believe that this film can be useful as a tool inside the classroom as it is now considered a deaf- friendly film. I hope that this sign-interpreted film will inspire more deaf Filipinos to be proud of our country, our natural language, and to prove the deaf Filipinos are capable in contributing equally to our national heritage," Sulse ends.
There will be future screenings of the film. For individuals, groups, and schools can contact 526-7441 loc 239 or 0917-8698231 or email atdeaf.partnerships@benilde.edu.ph .