Work of Leo Abaya as described below was exhibited during Dr. Jose Rizal's 151st birth anniversary at the Rizal Shrine on June 19, 2012.
DI KAILANGANG MADALING MAUPOS ANG KANDILANG
MALIWANAG ANG APOY, 2011
(A candle that burns twice as bright need not last half as long)
by LEO ABAYA
Cold cast bronze, colored resin
Collection of Annie Tanco
(First exhibited in Ciento Cinquenta, the Rizal sesquicentennial show
at the Pinto Art Museum, October 2011)
This work is highly informed by my involvement as the Production Designer of the film, José Rizal (1998). The visual research in that undertaking revealed so much information and imagery of him and of his time that the thought of making another likeness for a show was uninteresting, if not redundant. I felt it was more challenging to evoke in a work the spirit of the man while making it particular as well.
So much has been said about the legacy of José Rizal. But I have always felt a sense of panghihinayang, that he died young. And for this, I thought of the bowler hat he wore at his execution, and of using the metaphor of a candle — that which gives light. This work is a wish that I could contradict the aphorism that a candle that burns twice as bright lasts half as long.
The Artist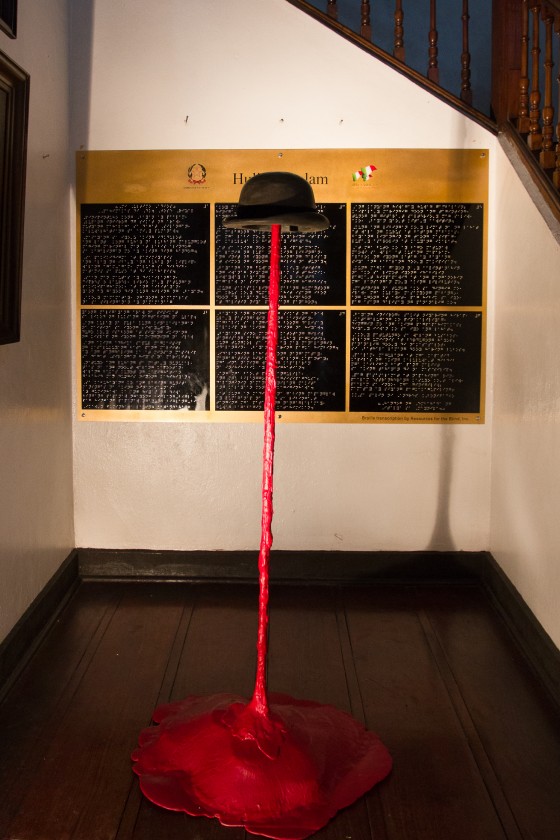 Leo Abaya lives and works in Quezon City. Apart from being an exhibiting visual artist, he is Associate Professor at the UP College of Fine Arts Diliman and concurrently Graduate Program Coordinator.
He finished his MA in Fine Art at the Winchester School of Art, University of Southampton in the UK, and finished his BFA with magna cum laude honors at the UP College of Fine Arts.
His works traverse the idioms of painting, sculpture, mixed media, installation and video, which inquire about identity, power and history. His methods and processes are informed by his interest in what lies beneath appearances and in how things work, be it the production of cultural objects, the recreation of reality in popular media and the construction of narratives and history.
He is also an exhibition designer and curator, a multi-awarded production designer for film and a set designer for theater.
His maternal great-grandfather Eduardo Calceta, provided refuge to Saturnina Rizal's husband, Manuel Hidalgo, when he was exiled by the Spanish government to Tagbilaran, Bohol in 1888.