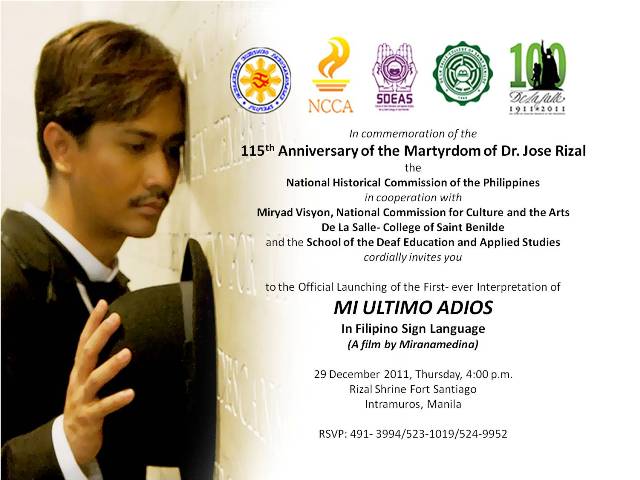 As part of the celebration of Rizal @ 150, and the 115th Commemoration of Rizal's Martyrdom, "Mi Ultimo Adios" interpreted in Filipino Sign Language [FSL] will have a special showing at the Rizal Shrine, Fort Santiago where the poem was actually written. Also being planned is the sneak preview of the multilingual version of Mi Ultimo Adios which shall be presented in three languages: Interpretation in FSL, Reading in Filipino Language, with subtitles in Spanish language, as originally written by Rizal. Screenings will be held on December 29, 2011 at 4:00 p.m.
Dr. Jose Rizal was a polyglot who spoke 22 languages including several local dialects, an indication that he was a very interesting conversationalist and a good communicator. He would also have probably learned sign language to convey his message of inspiration to the Deaf community.
Since our agency highlights the lives of our heroes, most especially Dr. Jose Rizal, it is quite notable that Filipinos like Miss Mirana Medina, an independent advocacy filmmaker produced the FSL version of Ultimo Adios 115 years after Rizal wrote it. For until now, nobody has given serious attention to FSL. No one saw that using the language of the Deaf to present Dr. Jose Rizal's literary work could even be more touching than hearing the poem recited in the most passionate way. Unique in itself, using and recognizing the natural sign language of Deaf Filipinos help in raising their morale and esteem because recognizing Filipino Sign Language is recognizing their identity as Deaf Filipinos.
The first-ever translation / interpretation of Rizal's poem in Sign Language, and the 132nd translation of the poem since 1897, Mi Ultimo Adios in FSL was recently chosen as official selection in the Second Hongkong International Deaf Film Festival which is going to be held in February 2012. Showcasing Deaf talents through the special screening of the film not only to the whole nation but to the whole world will give happiness in their hearts, for that would mean for them, recognition of their capabilities, and society's acceptance of their being. The feeling of inclusion will be felt.
This project aims to work with the De La Salle – College of Saint Benilde School for the Deaf and Applied Studies because of the advocacy of the School in the usage and promotion of Filipino Sign Language. Most of the Deaf consultants and actors of the film are scholars of the school. They would be helping by participating as performers for the program and will provide for interpreters for the Deaf people to understand the program. They will also be assisting with other logistical needs for the program to make this project very meaningful for our history.