I am so glad to be a channel of blessings to these 150 aeta children who came from Pampanga, Tarlac and Caloocan with the help of my brothers and sisters in Alpha Phi Omega International of UST or Pi chapter last December 08.  This event made me so ecstatic because of the overwhelming children who had those eyes all focused with the program and expecting to see what's in store for them on that moment at the Rizal Shrine. They knew they will be listening to a story of Jose Rizal and they were awed when they saw this performance. The parents of these children were also happy interacting with the story teller.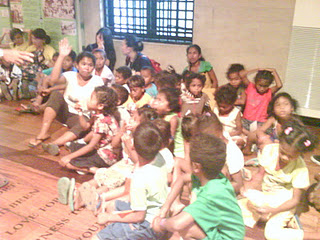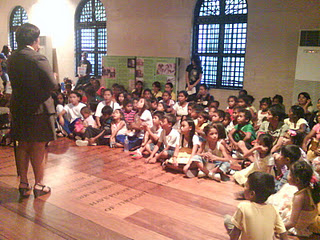 The program begun with the national anthem led by Ms. Zeny M. Gonzaga – Rizal Shrine Guide, the invocation was to be conducted by my brother inAPO, Benjo but he was preoccupied in assisting other the participants.  I was honored to have had the privilege to do the invocation. I welcomed everyone to enjoy the story of "Ang Pagong at ang Matsing" and discover its underlying message from Rizal.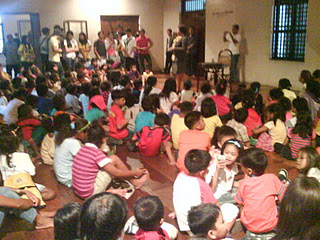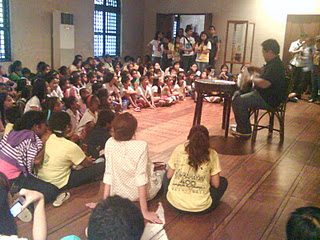 Mr. Jonathan Balsamo gave a brief message and introduced the story teller, Oliver Quintana a.k.a kuya Ogee who superbly performed with his varied voice characters.  The children and their mothers got excited with the changing of Kuya Ogee's voice and of course how he interacted with his audience.
Victor Robinson III, a stage actor played an Atenean Rizal who spoke to the children and explained that he was the young Pepe and sang "Ang Bayan ko" which encourages the crowd to sing along.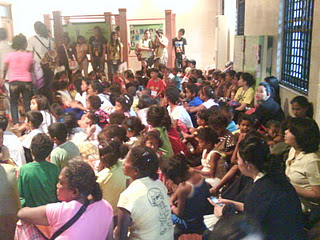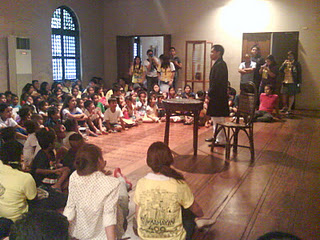 After the show, the guest fell in line and requested to pose with Rizalvic. This made everybody happy to see how their national hero looked like when he was a student just like them.
I thank all who gave their time and effort on this project; UST SOCC, Alpha Phi Omega International, Heroes Square, my BCI family (who prayed), my staff and of course my Division chief who gave her support and understanding.
I always believe that all things work together for good.
Zarah A. Escueta
Curator Rizal Shrine
Fort Santiago, Manila