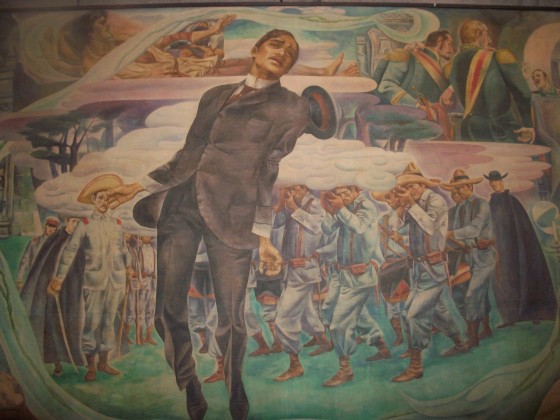 MANILA – The Rizal Day 2011 Inter-Agency Task Force in cooperation with other national and local government agencies will lead the national commemoration of the 115th Anniversary of the Martyrdom of Dr. Jose Rizal on December 30, 2011, 7:00 a.m. at the Rizal National Monument, Rizal Park, Manila; Rizal Shrine, Calamba City, Laguna;  and Rizal Shrine, Dapitan City, Zamboanga del Norte.
The Flag-raising and Wreath-laying rites at theRizalNational Monumentwill be led by President Benigno S. Aquino III.  Unveiling of the Rizal Fountain at the Noli Me Tangere Garden follows immediately.  NHCP Chair Dr. Maria Serena I. Diokno, Exec. Dir. Ludovico D. Badoy and other officials from various government agencies will join  President Aquino in the abovementioned activities.
The official launching of the first-ever interpretation of "Mi Ultimo Adios" in Filipino Sign Language will be held at the Rizal Shrine Fort Santiago on December 29, 2011, 4:00 in the afternoon at the Rizal Shrine Fort Santiago.  The film is directed by Ms. Mirana Medina.
Calamba City Mayor Joaquin M. Chipeco, Jr. and Dapitan City Mayor Dominador Jalosjos, Jr. will lead the commemorative rites in the cities of Calamba and Dapitan respectively. Conferences, symposia, oratorical contest, film showings, free LRT/MRT rides on December 30 are some of the activities for the observance of Rizal Day.
Rizal was exiled in Dapitan (now Dapitan City in Zamboanga del Norte) from 1892 – 1896.  The Spanish authorities accused him for allegedly keeping subversive pamphlets in his possession.  He was arrested and charged the crimes of rebellion and sedition.
On December 30, 1896, Rizal was executed by firing squad at Bagumbayan (now Rizal Park).
The NHCP is a national government agency mandated to promote and preserve Philippine historical heritage through research, information dissemination, conservation, including the marking of historic sites and structures, and the maintenance and administration of national shrines and landmarks.
For a complete list of Rizal Day Activities you may visit the NHCP website www.nhcp.gov.ph .