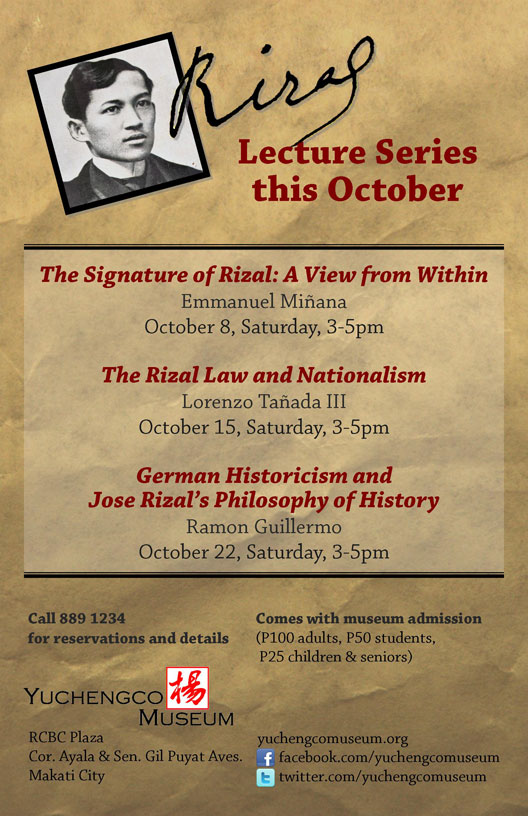 With RIZALizing the Future exhibit closing soon on October 29,  Yuchengco Museum presents the final series of Saturday Rizal lectures for the month of October.  The successful Rizal lecture series began in July as one of the public programs complementing the exhibit. Topic explored in previous talks include Jose Rizal's influence on Southeast Asia, his astrological birth chart, his contributions to the Filipino concept of nationhood, and even his dreams. This month, speakers will delve into Rizal psyche as revealed in his signatures, the Rizal Law and nationalism, and Rizal's philosophy of history.
Lectures come with museum admission (P100 for adults, P50 for students, and P25 for children and senior citizens). Advance registration is recommended. To register, call 889-1234 or email info@yuchengcomuseum.org. YuchengcoMuseum is located at RCBCPlaza, Corner Ayala and Sen. Gil J. Puyat Avenues, MakatiCity.
October 8
The Signature of Rizal: A View from Within
Emmanuel Miñana
In his first public lecture on graphology, Miñana reveals the National Hero's relationship with his family, Josephine Bracken, and Ferdinand Blumentritt as seen in his notes and letters. Emmanuel Miñana is an architect who has had an interest in graphology–the study of personality or character from handwriting–since he was 12. For the past 30 years, he has analyzed thousands of signatures here and abroad.
October 15
The Rizal Law and Nationalism
Lorenzo Tañada III
Coming from his grandfather's legacy of passing the Rizal Law (which mandates all educational institutions to offer courses on the life and works of Jose Rizal),Tañada shares his views on nationalism today. Congressman Lorenzo Tañada III, who represents the fourth district of Quezon province, is from the third generation of the Tañada political line. He is the grandson of the late Senator Lorenzo Tañada, known for his fearless stand against the Marcos dictatorship. He is also the son of former Senator Wigberto Tañada, one of the 12 senators who led the fight to expelUSmilitary bases in the country in 1991.
October 22
German Historicism and Jose Rizal's Philosophy of History
Ramon Guillermo
Ramon Guillermo is an associate professor of Filipino and Philippine Literature at the University of the Philippines Diliman. He is the author of two books, Pook ng Paninindigan: Kritika ng Pantayong Pananaw and Translation and Revolution: A Study of Jose Rizal's Guillermo Tell.