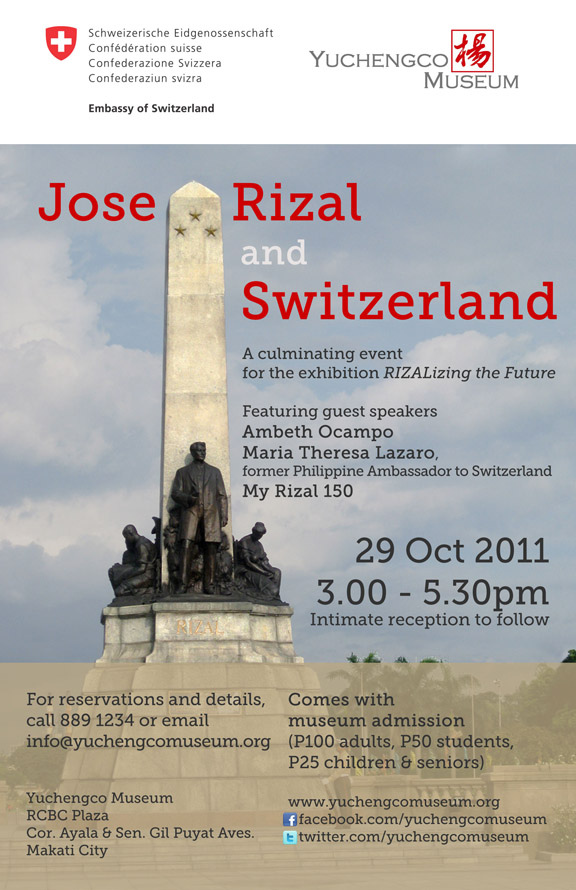 RIZALizing the Future Culminating Event
Jose Rizal and Switzerland
Saturday, 29 October 2011
3:00 – 5:30 p.m.
Featuring guest speakers Ambeth Ocampo, Ambassador Maria Theresa Lazaro, and MyRizal150
Presented in partnership with the Swiss Embassy
Special lectures by historian Ambeth Ocampo and former ambassador of the Philippines to Switzerland Maria Theresa Lazaro are the highlights of Jose Rizal and Switzerland, an event jointly presented by the Yuchengco Museum and the Embassy of Switzerland. The event marks the closing the museum's exhibit RIZALizing the Future.
Symbolically linking Switzerland and the Philippines are the emblematic figures of two national heroes, Wilhelm Tell and Jose Rizal. Rizal translated into Tagalog Friedrich Schiller's drama Wilhelm Tell, who embodied the values and ideals for which Rizal gave his life. In his lecture on "Jose Rizal and Switzerland," Ambeth Ocampo will talk about Rizal's links to Switzerland. Relations between the Philippines and Switzerland can be traced back to the early 19th century, when Swiss traders, missionaries, and travelers ventured into Southeast Asia. Since the establishment of a Swiss consulate in Manila—the first official representation of Switzerland in Asia—in 1862, exchange between the two countries has flourished. In her lecture on "Switzerland and the Philippines," Ambassador Maria Theresa Lazaro will discuss the 150 years of diplomatic and trade relations, development cooperation, and cultural exchange between the two countries.
Lecture is open to the public and comes with museum admission (P100 for adults, P50 for students, P25 for children and senior citizens). Ambeth Ocampo's books on Jose Rizal will be available for sale, and a small reception to meet the speakers follows the program.
As seating is limited, advance registration is recommended. For registration and details, call Yuchengco Museum at 889-1234 or email info@yuchengcomuseum.org. The Yuchengco Museum is located at RCBC Plaza, corner Ayala and Senator Gil J. Puyat Avenues, Makati City.