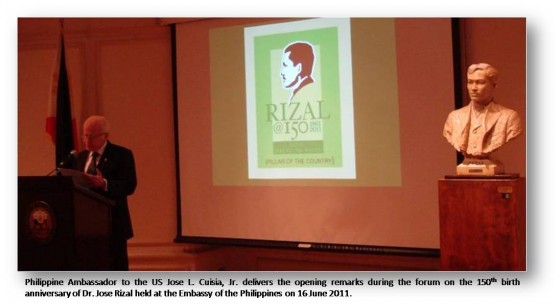 25 June 2011- The Philippine Embassy in Washington, DC reported that they hosted a forum in commemoration of the 150th birth anniversary of Philippine national hero Dr. Jose P. Rizal.
The forum held on June 16 was made possible in cooperation with the Philippine Arts, Letters and Media Council (PALM).
Ambassador Jose L. Cuisia, Jr. welcomed the guests to the forum which featured distinguished speakers namely, Ms. Bernardita Churchill, PhD, retired University of the Philippines professor and President of the Philippine National Historical Society; Ms. Anna Bantug-Herrera, The Asia Foundation Assistant Director and great-great grandniece of Rizal; and, Ramon Paterno, Esq., retired International Finance Corporation Senior Counsel and founder, Rizal Day and Youth Awards Committee.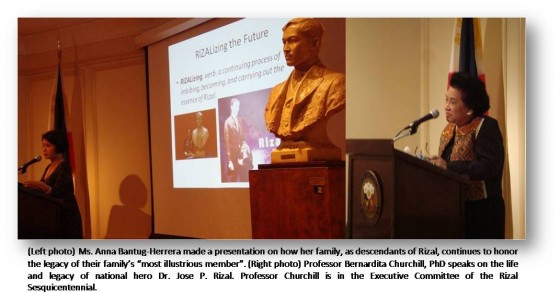 The remarks of Dr. Churchill, The Vision of Rizal, the First Filipino, gave a historical perspective of Rizal's actions and gave emphasis on Rizal's call not only for changes in the Spanish rule but also for changes in the Filipino social mindset.
Ms. Herrera, a direct descendant of Narcisa Rizal, shared photos of Rizal family mementos including a business card used by Rizal while practicing medicine in Hong Kong and the tampipi that served as cover for the smuggled copy of the novel Noli Me Tangere.
She closed by saying that she will continue rizalizing the future.
Atty. Paterno shared his passion on learning about Rizal. He discussed Rizal as a Renaissance man and as the first nationalist and why Rizal is named as the country's national hero.
After the presentations, the audience was given a chance to engage the speakers in an open forum. Among those who attended were Filipino-American university students, Filipino teachers, Fulbright scholar in the Philippines and other DC-based Rizal descendants.
The guests were also invited to an exhibit on Rizal at the Asian Reading Room of the Library of Congress. The display will run until June 27. END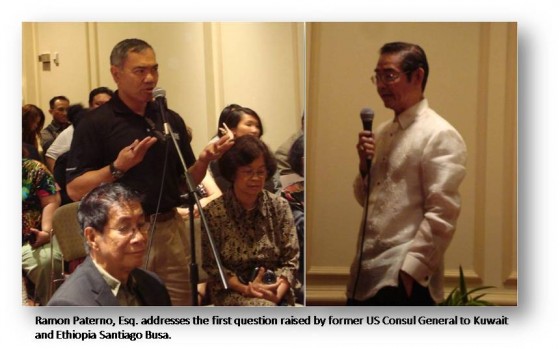 * a repost from Philippine Embassy Article
http://www.dfa.gov.ph/main/index.php/news-from-rp-embassies/3288-philippine-embassy-in-washington-dc-holds-forum-in-commemoration-of-rizal-sesquicentennial