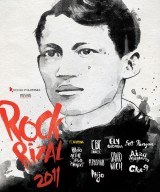 Celebrate Jose Rizal's life and works through rock and roll! Rock Ed Philippines—a volunteer group advocating nation building through alternative education—and some of the country's best musicians have been collaborating on Rock Rizal, a multi-artist album paying tribute to the national hero.
Among the artists that are contributing to Rock Rizal are Jett Pangan, Ely Buendia, Radioactive Sago Project, Sandwich, and Gloc 9.
Visit facebook.com/rockedphilippines and click on the ROCK RIZAL tab to download the first two tracks. More Rock Rizal songs will be posted every two weeks. A grand launch of the album and concert are also slated in September.*
* Text taken from the Yuchengco Museum newsletter.
** Image taken from the RockEd Facebook page.