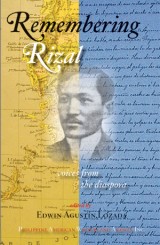 BOOK LAUNCH
Remembering Rizal
"Remembering Rizal, Voices from the Diaspora"
Edited by Edwin Agustín Lozada
Published by PAWA, Inc.
A collection of poetry, plays, articles, essays and artwork honoring José Rizal by Filipinos of various ages from California, Illinois to New York, Chile and the Philippines.
Included is a selection of Rizal's poetry, diary entries and letters in the original languages in which he wrote, with new translations.
Thursday, July 28, 2011, 6:00 PM
Philippine Consulate General, San Francisco
447 Sutter Street, Social Hall, 5th Floor
Sponsored by:
Philippine Consulate General, San Francisco
Filipino American International Book Festival
PAWA, Inc.
For more information on the book, please visit the PAWA website.
Click here for map and directions to event venue.
Click here for online registration to the event.