MY RIZAL:  COMPOSER'S NOTES
by Maritess Salientes
My Rizal is an original Jazz Symphony composed and arranged by Maritess Salientes in April 2011 in honor of Jose P. Rizal.
The music takes its inspiration from important elements of Jose Rizal's life:  his exile in Dapitan, his carefree years in Spain and Europe, the love of his life – Maria Clara, and his glorious death.  The composer evokes many emotions in this composition: It begins with a somber elegy and recitative of Mi Ultimo Adios.  Then a poignant duet of a lovers' song, followed by the excitement and passion of Revolution.  And finally the call of Unity of all Filipinos even unto death for the love of Mother and Country.
The composition successfully integrates four different musical styles of different periods from historical to contemporary. Take a classical orchestra with strings, woodwinds, and percussion, then flavor it with the jazz polyrhythms of electric bass and guitar and tenor saxophone solo.  Add a lively flamenco guitar with castanets and punctuate it with the energy of ethnic Filipino instruments like the kulintang, bamboo clapper, and gangsa.
The result is music that expresses our unique heritage and history.  It is our hope that MY RIZAL will be played in the halls of Filipino music in the years to come to honor the man, Jose P. Rizal and keep his spirit alive to future generations.  By doing so, we also honor ourselves, the Filipino, and our country, the Philippines.
BIOGRAPHY
Maritess Salientes
Composer, Arranger, Lyricist, Jazz & Pop Keyboards, Music Producer
(Composer's website here)
"A life without music is like a heart without a soul" -Tess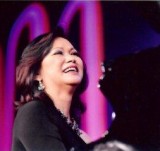 MARITESS C. SALIENTES started playing piano by ear when she was five.  Trained in classical music, by the mid seventies, Tess emerged a vibrant teenager active in the Philippine pop music scene playing the piano and Yamaha Electone.  She gave concert tours highlighted by performances at the Meralco Theatre and Cultural Center of the Philippines.
At age 16, she won first prize in the 1974 Philippine Yamaha Electone Festival and represented the Philippines at the 10th International Grand Prix Concours in Nemu-No-Sato, Japan.  Tess was the youngest contestant and came home with the Distinguished Performance Award (2nd prize honors).  It was then that Maritess discovered her affinity for jazz and improvisation.
Maritess was one of the first Filipinos to seek further jazz education abroad thus paving the way for other future Pinoy musicians, names well known in the Philippine jazz and pop industry today.  Her love for jazz and contemporary music bore fruit at the world-renowned Berklee College of Music in Boston.  Tess was the first Filipino to graduate from Berklee with a Composition Degree, Magna cum Laude.  She taught Harmony, Ear Training and Small Jazz Ensemble for 2 years while composing and performing with her own Fusion Jazz Band, Apple Pie and Mother.  Her band members led successful careers with notables like Chaka Khan and the Buddy Rich band.  Guitarist Bill Frissell eventually distinguished himself with a Grammy award.
However, Maritess' career took on a different direction as she also realized her talents in the business arena.  She became a successful real estate broker and was a partner of various entrepreneurial ventures for 2 decades.  She eventually joined the mainstream and true to her passion for excellence, she blazed trails in the corporate world and became VP of Sales and Marketing for a Fortune 200 company.  Maritess was involved as a volunteer music teacher and caroling director for Iskuwelahang Pilipino in Boston.  The school received the presidential Banaag Award for Outstanding Overseas Filipino organizations abroad in 2006.
In 2005, Maritess returned to Manila.  "Ako ay tunay na Balikbayan!", she quips.  After holding key executive positions with top real estate companies in Manila, an invitation to compose and perform at a concert by her mentor, Professor Carmencita G. Arambulo, turned out to be a definitive turning point for Maritess.  Her maiden album "Velvet Mountain" marked her joyful return to Music, her first love.
In 2010, Maritess established Music Magician,  a music production house.  It produces high caliber original music and musical arrangements in-house to suit a wide variety of needs from Vocal and Band arrangements, to Commerciai Jingles, to complex Film Scores and Orchestral works.  Recording Studio facilities are available in Bonifacio Global City.
"If God gave you a voice to be His instrument, the music will always be in your soul.  In my case, it blooms even richer and finer than ever. Balikmusika!"