by Simon Francis Blaise R. Vistro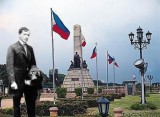 There is a shortage of Filipino role models in these modern times. We are frantically looking for people to emulate because our current leaders are inept and unprincipled. We cannot help but look back to the Filipino heroes of yesteryears, especially our National Hero Dr. Jose P. Rizal!
What if he were alive? What would he be doing? What would be his role in today's society?
I searched the internet for insights and opinions. Google led me to Yahoo! Answers forums inrakista.com and the Polytechnic University of the Philippines (PUP) website, and the Professional Heckler's (one of my fave blog reads) entry Jose Rizal in the Time of Facebook, Gloria & Hannah Montana.
In YouTube, I found Lourd De Veyra's Word of the Lourd: What if Rizal Were Alive Today episode and was awed at the possibilities. I also posted the question on my Facebook wall and the What's Up Dagupan Facebook page and appreciated the comments of people I knew.
But it was Filipino historian Ambeth Ocampo's Looking Back article that moved me. Overall, the viewpoints and comments on the question: 'What if Rizal were alive' bordered from funny, irreverent, and absurd to informative, logical, and witty. Well, we are amazingly and incorrigibly Pinoys, aren't we?
Here is my take on what if Jose Rizal was alive today:
On June 19, he will be 149 years old. This would make him one of the Filipino MacLeods. The other Filipino immortal of course is Senator 'Gusto ko happy ka' Johnny Enrile. A man of nine loves, Jose Rizal will celebrate his birthday omnipresently in the places where he met the women who made his heart go bonkers — Laguna, Pagsanjan, Dagupan City, Madrid, Japan, London, Biarritz, Brussels, and Dapitan. If he will be made to choose only one among these places, it would be, hands down, Dagupan City (the hometown of his longtime sweetheart and arguably true love Leonor Rivera) where he would also join the Agew na Dagupan (Dagupan Day) celebration on the next day, June 20.
A foodie whose loves seafood, Rizal whenever he is in Pangasinan would always eat at my good friends Sundie and Marlyn Lorica's Matutina's Seafood House and Restaurant or at my high schoolmate Anne Castro's family-owned Dagupeña Restaurant. He would love his bangus cooked as inselar (soured broth or sinigang) or 'inkalot'(charcoal grilled). For breakfast, he would enjoy sardinas secas (tuyo or dried fish) from San Fabian with rice and tablea de cacao (hot chocolate) drink. His birthday would not be complete without his favorite 'pancit' (birthday noodles).
Jose Rizal in 2010 is a Social Network demigod. His tweeter account has over five million followers. He was blamed for the six hours' crash of twitter.com for his single tweet 'Fuego!' last December 30. This single tweet got more than 250 million retweets, which curiously was traced to come from Filipino voters only. This tweet trended again last May 10, five months since it was tweeted. As a Literary and Travel Blogger, his blog is consistently the top blog in Technorati besting the likes of The Huffington Post and Gizmodo. He recently deactivated his Facebook account due to privacy issues. He denies having a Friendster account.  According to him, Friendster is so 1800's.
He is a master of 23 languages and dialects including Jejenese. He wrote three novels in full Jejemon parlance under the nom de guerre, P3P3Rz@LMD. These books are now regarded as the 'Bible' of Jejemons and are being studied by author Dan Brown for a book project ala Da Vinci Code. He even translated his novels Noli Me Tangere and El Filibusterismo to Jejenese to remind the youth of today about the ills of society that continuously plague us in a language they understand. To those who persecute the Jejemons, he would say: 'Man is multiplied by the number of languages he possesses and speaks.'
Like many Filipinos, Jose Rizal is a big basketball aficionado. He would never miss the championship games of the Blue Eagles. Ateneo's cheer 'One Big Fight!' is said to have been coined by him. His favorite cager is Chris Tiu who like him is multi-talented and 'muy amable' (very lovable). He also admires JC 'The Rocket' Intal. His favorite NBA player is Pau Gasol of the Los Angeles Lakers.
If he were to be an NBA player, his moniker would beJ-Riz. A San Miguel Beermen fan, he also frequents the PBA games with former U.S. Ambassador Kristie Kenney and Valerie Concepcion. A multi-skilled sportsman, Rizal fences with Richard Gomez, pistol shoots with Jethro Dionisio and my kumpare Rob Erfe-Mejia, Dagupan City's Top Gun. Boxing? Of course he is a Manny Pacquiao fan and friend but not the Chavit kind. He is responsible for the Pacman's improved English-speaking skills.
Jose Rizal as a politician? I would doubt this. There are many, many people who would want him to become president but in a country like ours, he would never become president even if a hundred Mar Roxases would give way. Not if our criteria for electing a leader is sympathy, popularity and money. He might not even win as cabeza de barangay (barangay captain) against has-been moviestars, as he is strict, uncompromising, and a genuine reformer (making him unpopular among traditional politicos). The Filipino electorate is not yet politically mature.
The enemies he faced are still here, only in a cosmic rigodon de deshonor. Same dog different collar. The slaves of yesterday are the tyrants of today. The oligarchs have inherited the usurping power from the foreign conquistadores. The power of the meddling Church and frailes have not waned and instead multiplied into several religious denominations who are now self-proclaimed righteous leaders and political kingmakers. We may be sovereign now but foreign imperialists are still ramming their policies and influence down our throats. A martyr and true hero, Dr. Jose Rizal would still choose to be shot in Bagumbayan and die over and over again for'amor a la Patria' and love of others.
In 2010 and beyond, Pepe is and would always be a national figure. He is our fuente de luz' (source of light) and still our kilometer zero, the standard or point of reference by which a Filipino is and will be measured. Being the polymath that he is, he'd be internationally renowned. He is Levi Celerio, Lea Salonga, Charice Pempengco,Cecile Licad, Francis M and Apl. de Ap. of music, Lisa Macuja, Leonor Orosa and a member of theJabbaWockeeZ of dance and FPJ and Dolphy of tinseltown. In Literature, he is Nick Joaquin, F. Sionil Jose, Alejandro Roces and Lualhati Bautista. In couture, he is Monique Lhuillier and Josie Natori. In sports he is Manny Pacquiao, Batista, Eugene Torre, Wesley So, Paeng Nepomuceno, 'The Big Difference' Caloy Loyzaga, Efren 'Bata' Reyes and Jennifer Rosales. He is Efren Peñaflorida, Mang Pandoy, Emilio Advincula, the honest cop, the she-roes and heroes of Ondoy and Pepeng, the dollar-remitting homesick OFW, the toiling mother who makes ends meet, the father who does odd jobs, the iskolar ng bayan, the pedicab driver, the 'dumaralos' (farmers) and fishermen, and all indios bravos.
Maybe the question should not have been what if Rizal were alive today. Because Rizal is alive! He is in you and me. He is every Filipino who loves his country and his fellowmen.
He is not just what we want to become but who we are.
Photo edited by the author. Some rights reserved.
___
Simon Francis Blaise R. Vistro wants to be known as SiRVis (an amalgamation of his name, profession as a teacher and penchant for service). He is a polymath wannabe in the fields of training and education, civic voluntarism, sports, arts, travel and social networking. Born and raised in Dagupan City, he is a staunch advocate of the preservation of Pangasinan language, arts and culture.
Article originally appeared here.