by Kira Mae Ramirez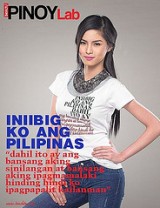 There is no better time to be proud of our heritage than now. Our Filipino craftsmanship has received accolades worldwide, Filipino artists and athletes are gaining their much-deserved recognition, and our eclectic designers-cum-entrepreneurs have turned the world's spotlight on to Philippine fashion design. Just mention the influential Mich Dulce, Rafe Totengco, Bea Valdes, and Monique Lhuillier and you're sure to receive a nod of approval and admiration.
Understandably, even our Filipino pride has translated into casual, everyday clothing. For us who wish to get a piece of the pie without wanting to shell out big bucks, a simple trip to the nearby mall offers a lot of choices. We can wear our pride on our sleeves (or chest, for that matter) simply by purchasing a shirt and spreading nationalism everywhere we go.
The birth of the word Fashionalism was coined by combining fashion + nationalism. The term is attributed to Rhett Eala who created a collection of collared shirts and polos for the brand Collezione C2 in 2006, strategically using the Philippine archipelago for its main design. According to Eala, "This is to infuse nationalism into fashion, making the veneration of national icons hip, fun, and urbanized."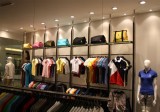 The map was printed, beaded and embroidered in various hues on shirts, dresses, bags, caps and other fashion items. He then aptly called this collection My Pilipinas. "We're an all-Filipino label. Everything is made in the Philippines. I was looking for a symbol that was Filipino so I came up with this map idea. Our map is very unique. It's a pretty map and one day I just put it on a shirt. I wore it and I (wanted) to see how it felt and it felt good," he muses. "We decided on a gold map first and then it just snowballed from there to an entire collection."
Collezione C2 shirts did not only attract the masses but also affluent people like politicians and artists. Mar Roxas and Noynoy Aquino were once spotted wearing these shirts.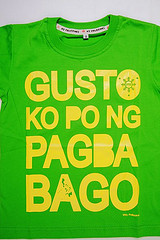 In 2003, Brian Dy starting his clothing company aptly named MyPhilippines Lifestyle, Inc. with a simple vision: for everyone, especially the youth, to wear nationalism on their sleeves. They started as an outright supplier of SM's Philippine Crafts Department (now known as Kultura) and has now grown into the top Pinoy Lifestyle brand in the county today in terms of market scope, shirts sold, and customer base.
Dy pioneered "Pinoy lifestyle shirts" that went beyond simple souvenir designs like tourist locations. He said the company's lifestyle shirts were meant to depict Filipino culture and inspire patriotic feelings for both wearers and onlookers. "It's like a walking billboard. People see what you wear. It's a direct message to yourself and to the people who see these shirts. It's a reminder for everyone," Dy said in a Newsbreak interview.
Dy's shirts have notable slogans such as: "Lalaban Ako Para Sa Bayan Ko (I will fight for my country)", "Gagamutin Ko Ang Sakit Ng Ating Bansa (I will heal the sickness of this country)," and "Gusto Ko Po Ng Pagbabago (I want change)" in bright bold letters.
"We wanted to target nationalism on a more personal level. Meaning, we made shirts specifically for different fields of society. There are shirts for students, mothers, activists, doctors, athletes – anyone who wants to change the country and anyone we can be proud of," Dy said
Also flying off the shelves were trendy shirts bearing the face of the country's national hero, Jose Rizal. Mon Punzalan, founder of Team Manila, said: "We made a design where Jose Rizal is wearing aviator shades because he represents the modern Filipino. The sunglass-wearing Rizal is an icon now."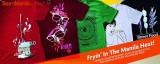 You could say that Team Manila transformed Rizal, jeepneys, even balut and isaw into what we consider now as cool and fashionable. Their wares are much sought after by students, yuppies, balikbayans, and even prominent fashionistas such as Tim Yap and Daphne Osena-Paez. Team Manila not only offers shirts for the young and old (they recently released shirts for kids), but a whole lifestyle based on the concept. They created pillows, bean bags, wristlets, lanyards, belts, button pins even wall clocks.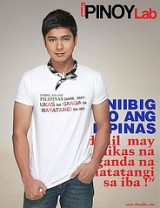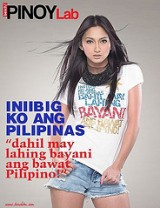 In April 2010, Bench also released their new PinoyLab campaign dubbed "Iniibig ko ang Pilipinas (I love the Philippines)" with the participation of several celebrities and models such as Rayver Cruz, Aljur Abrenica, Christian Bautista, Coco Martin, Jake Cuenca, Piolo Pascual, John Prats and Kris Bernal, Carla Abellana, Georgina Wilson, Iya Villania, Karylle, and Kim Chiu. These models and celebrities posed wearing t-shirts with the statement "Iniibig ko ang Pilipinas dahil…"
Signs of Patriotic Times?
It seems Filipinos cannot get enough of nationalistic yet fashionable items. The recent death of the rapping icon Francis Magalona further contributed to the growth of fashionalism. Magalona had launched his clothing brand "3 Stars & a Sun" at around the same time that Eala launched My Pilipinas.
Former President Cory's passing was no different. A bevy of yellow ribbons as well as yellow shirts with her face printed on them were also available during her wake and burial. Some famous shirt brands also jumped on the bandwagon, creating shirts with a yellow ribbon beside the Philippine archipelago.
Some might say that the "I am Ninoy Campaign," launched in 2008 to commemorate the 25th death anniversary of Sen. Ninoy Aquino, started it all. However, according to Prof. Schedar Jocson from the University of the Philippines College of Arts and Letters, "The trend of putting national symbols in merchandises started way before. Mugs, fans, baseball caps, and t-shirts with the Philippine map and other national symbols used to be sold only in pasalubong stalls," says Jocson. "Fashionalism, as we know it now only started during the celebration of Jose Rizal's 100th death anniversary when there was a really massive number of items with JR's face on them."
The trend also spurted more during the centennial celebration of the Philippine's freedom and People Power I. Jocson adds, "It was then that the Philippine map and flag can be found in t-shirts of politicians and other celebrities. Soon after, Ninoy Aquino's face took its turn to be the uso. With this, we can say that fashionalism started during the Ramos regime."
Most argue that these fashionable and nationalistic items have been beneficial as they help educate the youth by helping them understand as well as appreciate our history and culture. However, some also point out that these national figures are merely portrayed as hip and cool designs of the season rather than pure symbols of being Filipinos since most products are targeted towards the younger generation, most of whom are not fully aware of the icon's history.
Others believe that real nationalism is dependent on one's contributory actions to society. There is not much need to wear baller bands or show off the latest duds with the Philippine map emblazoned on them. As Branded Nationalism states, responsive action should take precedence over the clothes we wear and not vice versa.
Reference: Branded Nationalism
Bench photos from Popsicles.ph. Other screencaps taken from their respective websites. For illustrative purposes only.
Article originally appeared here.